The story of downtown Graton's revitalization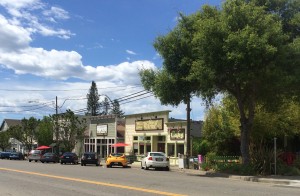 In 1994 Orrin and Terri Thiessen bought most of the buildings in historic Graton, California and began renovating the downtown.
The people of Graton supported Orrin's vision to restore the existing buildings that had fallen into disrepair, and to rebuild sidewalks, install diagonal parking and lobby for a stop sign in an effort to renew the declining downtown area. This was Orrin's first experience with a downtown transformation, not far from his home in west Sonoma County. The pattern of redevelopment that Thiessen Homes established in Graton is one he's followed ever since.
This was also Thiessen's first experiment in mixed-use development. Many of the buildings in the town utilize the concept of "horizontal mixed-use" — that is, retail in front and residential in back. He restored a few of the historic buildings, but for the most part he tore down what was there and built new, copying the original designs using turn of the century photographs of Graton.
Willow Wood Market was one of the first new businesses to open in Graton. Owner Matthew Greenbaum later created another popular restaurant, the highly acclaimed Underwood Bar & Bistro. There are now several restaurants, shops and services that make up downtown Graton.
[foogallery id="2280″]