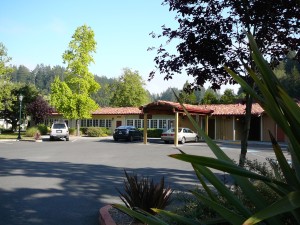 In 2003 Orrin and Terri Thiessen agreed to create Harmony Village on the site of the closed Harmony School, and to donate the multi-purpose room, adjoining classroom and outdoor amphitheater to the Occidental Center for the Arts (OCA).
Construction on the Harmony Village project commenced in summer 2008 with the first residences completed and ready for occupancy in spring of 2009. The project is built on the former Harmony Elementary School site located in downtown Occidental, California.
There are 12 residential condominiums, 2 mixed-use buildings and 6 commercial units in Harmony Village. The residential condominiums have two or three bedrooms and range in size from 900 to 1,500 square feet, and all have private garages and fenced backyards. As approved, Harmony Village will eventually include 10 single family homes. The Harmony Village commercial and mixed-use spaces were designed for professional offices and studios.
Harmony Village includes outdoor common areas. One of the school buildings in the middle of the former campus was removed to make room for a large patio and shade structure.
Founded in 1876, Occidental is a charming village in western Sonoma County located about 25 minutes from Santa Rosa. Neighboring communities of Bodega Bay, Sebastopol, Graton and the Russian River are all within a short drive. Residents of Harmony Village can enjoy a short walk to Occidental's eclectic mix of restaurants and shops amidst the old growth redwoods surrounding the village. The beautiful Sonoma Coast is also nearby.