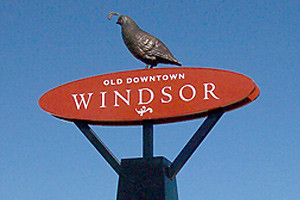 Orrin and Terri Thiessen undertook the biggest project of their life with what would become Town Green Village. Orrin spent a rewarding decade designing and building this colorful downtown community.

Town Green Village, L. P. began construction as part of the revitalization of Downtown Windsor in 2001. The architecture mixes new age urban design with the re-creation of the historic buildings of Windsor and Sonoma County. The Town of Windsor committed to its revitalization in the late 1990's with the adoption of the Downtown Plan, reconstruction of Windsor River Road and the construction of the Windsor Town Green. About the same time, Town Green Village, L. P. started its first phase of the Town Green Village development. Orrin worked with local historians to re-create turn of the century architecture but with all the modern-day amenities. Windsor's old Downtown dates from the 1870's, and the advent of the San Francisco and North Pacific Coast Railroad. With a major rail line, hotels, shops and homes, it was the turn of the century center of Sonoma County's busy life.

The Village allows pedestrian-friendly access to local schools, library, gymnasium, shopping, restaurants and Windsor's four acre Town Green. The Town of Windsor constructed a multi-modal transportation center providing parking, transit bus connections and car pooling adjacent to Town Green Village, along the former North Western Pacific Rail Road (NWPRR) train tracks. The tracks are now owned by Sonoma Marin Area Rail Transit (SMART). A train depot, designed by Orrin Thiessen to reflect Windsor's history, is located on the West side of Windsor Road, adjacent to Windsor River Road. The transit building houses the Chamber of Commerce & Visitors Center, offices and public restrooms.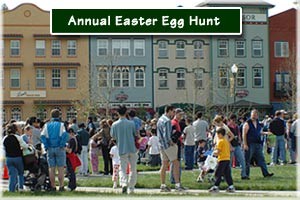 L I V E —  W O R K  —  P L A Y
Named one of the "Top Smart Growth Projects" in the country by the Sierra Club, Town Green Village was on the cutting edge of New Urbanism for Northern California. Locally owned and operated retail stores, restaurants, wine bars and professional offices created a place where a diverse community could come together to live, work, and celebrate all that Sonoma County has to offer.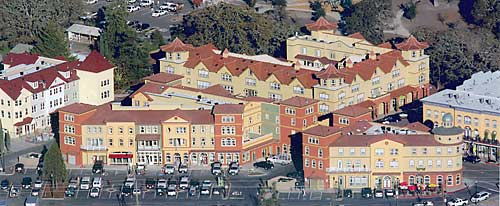 The Town Green Village project utilized "Smart Growth" and New Urbanism design techniques to create a unique Northern California community. In addition, the mixed-use concept conserved land that would normally have been converted into urban sprawl, leaving the beautiful landscape of Sonoma County free of unnecessary development.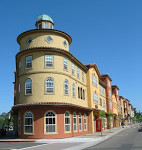 The Village is built on 14 acres and is mainly comprised of three story, mixed-use buildings, with commercial condominiums on the first floor and two story residential condominiums above. Many of the building facades are designed re-creations of historic Windsor and Sonoma County buildings. This high density, mixed-use concept conserved one of Northern California's most valuable resources — land. By utilizing 14 acres to create homes and businesses normally built on 50 acres, it helped keep the beautiful landscape of Sonoma County free of unnecessary development and urban sprawl leaving the remaining open space to future generations. Town Green Village is an award winning, innovative and nationally recognized "Smart Growth" mixed-use urban village, providing a unique, pedestrian oriented environment. Town Green Village, L. P. and Thiessen Homes completed construction and occupancy of each "phase" listed below.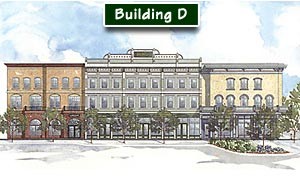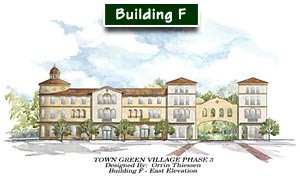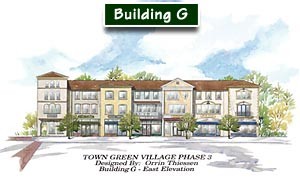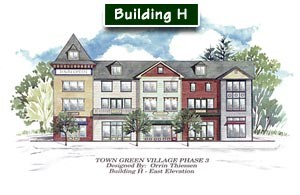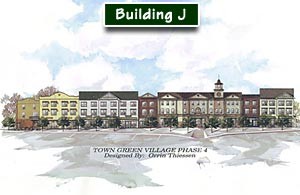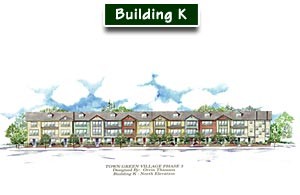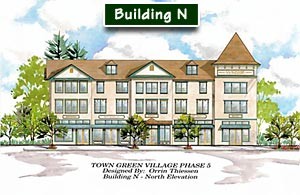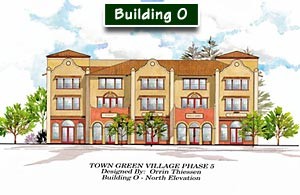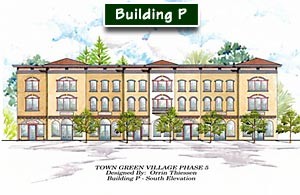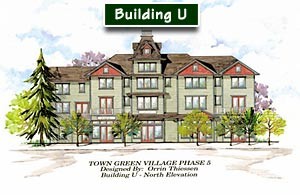 McCracken, IOOF & Emery's
Reproductions of historic buildings are located at the Southeast corner of Windsor Road and Windsor River Road.
Reimann House & American Hotel
Located on the northeast corner of Windsor Road and Windsor River Road, two replicas form the centerpiece of the western gateway to the Windsor Town Green: The Reimann House and The American Building.
Phase I
The first three mixed-use, three story buildings with Americana facades south of the Town Green on McClelland Drive were completed in 2004. Buildings A, B & C have a total of 34 residential condominiums on the 2nd and 3rd floors and the 1st floor commercial condominiums are a mix of restaurants and retail shops.
Phase II
Phase 2 was the completion of construction on "The Green". Building D continues the Americana architectural style and includes an Italianate facade which replicates the original Occidental Hotel in Santa Rosa. To the north, Building E has a Northern European flavor and houses the popular 50's style diner, "K.C.'s Downtown Grill". There are 20 residential units and 13 downstairs commercial units in this building.
Phase III
This phase was designed using Italianate and Americana architecture and expanded the urban village to the west side of Windsor Road adjacent to Windsor's "Park 'n' Ride" & "Train Depot". Buildings F, G, H, & I are three story, mixed-use buildings with businesses including Patterson's Pub, Tomi Thai Restaurant, and a mixture of owner-operated retail shops. This phase also introduced Town Green's two residential only, row house condominiums:   Buildings K & M which were completed in 2006.
Phase IV
Located on Windsor River Road and Conde Lane, Building J is the eastern gateway to the Town Green Village from US 101. The Americana and Italianate architecture is highlighted by a 60′ clock tower. This mixed-use building contains thirteen residential condominiums and ground level professional offices including dental, architectural, insurance & legal services.
Phase V
Spring of 2006 was the ground-breaking of the largest phase. The three mixed-use buildings front Windsor River Road and five additional buildings are one block to the South on Johnson Street. Phase V includes 66 residential condominiums above 30,000 square feet of commercial space. The residential condominiums are a variety of single flat & two level configured homes, twenty-three of which are located in a building serviced by an elevator.  This building has accessible units for residents with special needs. Commercial use includes retail and professional space and welcomes Chinois Asian Bistro and Sonoma County's renowned Omelet Express, each with an outdoor dining area.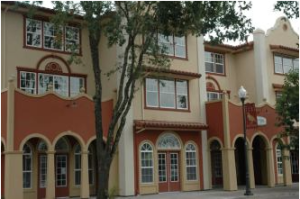 The residential condominiums are a variety of single flat & two level configured homes, twenty of which are located in building Q and is serviced by an elevator. This building has accessible units for those with special needs.

Town Green Village is a pedestrian friendly community where people live, work and play all within the unspoiled beauty of Sonoma County's Wine Country. First-time home buyers, empty nesters, and those looking for a convenient urban lifestyle were able to choose from a large variety of floor plans to fit their needs.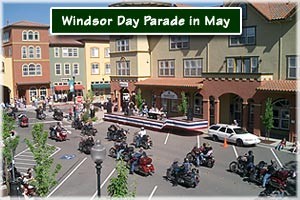 In addition to their "place to call home", Town Green Village offers many community activities and events. Windsor's downtown includes a bandstand, fountain, children's play area, gymnasium and a regional library. Residents enjoy free outdoor concerts, moonlight movies, art shows, parades, annual Easter egg hunt, farmers market and many other activities just outside their front door. Windsor also offers many community services: Parks & Recreation programs, Windsor Arts Council events, local and regional parks, and access to the Russian River, to name just a few. There is truly something for everyone. The Windsor Unified School District consists of several elementary schools, one middle school and one high school and has been the recipient of three California Distinguished Schools and two California Golden Bell Awards. Windsor Schools offer some of the best academic programs in Sonoma County. For more information about the Windsor Unified School District, please visit their web site. www.wusd.org Town Green Village, located in Windsor, is a convenient 2 minute drive to US 101 and a 5 minute drive to the Charles Schulz Airport. Below is a picture from the 2007 Windsor Day Parade and Festival.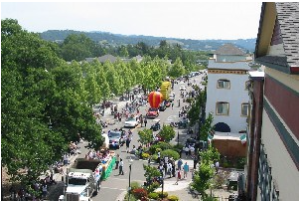 The Downtown
Today, the four and one half acre Town Green in the heart of the old downtown has a bandstand, fountain, historical time-line walk, children's play area, and a stand of native blue and valley oaks over 200 years old. The Town Green hosts many community events: free outdoor concerts, moonlight movies, art shows, parades, annual Easter egg hunt and much more. A local favorite is the Windsor Farmers Market where local vendors display their bounty of locally grown fruits and vegetables.

In addition to the Town Green, Windsor offers many local attractions and points of interest.
Windsor — Gateway to the Wine Country!
In addition to dozens of wineries & tasting rooms, Windsor offers close proximity to a multitude of other points of interest: casinos, museums, golf courses, the Russian River, beaches, shopping, and many other attractions.
Wineries & Tasting Rooms

Gateway to the Wine Country, Windsor is the gateway to hundreds of wineries located in Sonoma County, known worldwide as the premier wine growing region. Windsor is in the heart of the Russian River Wine Valley where wineries range from large world famous facilities, elegant upscale estates, limited production boutique, to unpretentious family owned establishments. Here are just a few: Russian Hill Estate – A family owned and operated winery, is located in the heart of the Russian River Valley and dedicated to the production of world-class Pinot Noir and Syrah. www.RussianHillEstate.com
Landmark Vineyards – Generations of pioneers, ranchers and winemakers have instilled this property with the spirit of historic Sonoma County. In continuous operation as a ranch since the mid-1800s, this Russian River Valley landmark is home to two wine brands – formally Hop Kiln and HK Generations. www.LandmarkWine.com
Martinelli Winery – Since 1896, five generations of the Martinelli family have worked together producing apples and wine in Sonoma County. Available for sampling are award winning estate wines and ciders as well as many local gourmet food products. www.MartinelliWinery.com
Moshin Vineyard – This winery began with a big dream and the purchase of a little vineyard in 1989. Solely owned and operated by members of the Moshin family, Moshin Vineyard is best known for producing award winning Pinot Noir. www.MoshinVineyards.com
Recreation & Entertainment

A mecca for outdoor enthusiasts, Windsor offers a wide variety of activities. Swim, canoe or kayak on nearby Russian River. Enjoy the scenery, take a bike tour of the area or get a bird's eye view from a hot air balloon. The 3 Regional Parks: Foothill, Shiloh Ranch and Riverfront, offer miles of hiking, horseback riding and mountain bike trails, picnic grounds, fishing and wildlife viewing.

Windsor Golf Club maintains a par-72 championship course and has hosted numerous PGA Nike Tour events. The challenging layout offers a multitude of visual pleasures which include the club's signature silos, a spattering of lakes and a year-round creek. River Rock Casino is just 15 minutes away from Downtown Windsor and is a great place to enjoy a "night on the town": delicious food, entertainment and, of course, 24-hour gaming.
Pacific Coast Air Museum

Founded in 1989, the Pacific Coast Air Museum is a non-profit organization dedicated to promoting the acquisition, restoration, safe operation and display of historical aircraft. Come see the growing display of aircraft and learn about aviation heritage and local history at the Pacific Coast Air Museum. The museum has an open house and/or air show every year and hosts the annual world-class event, "Wings Over Wine Country," every August.
Charles M. Schulz – Sonoma County Airport
Airport services include professional fuel services, major aircraft maintenance, aircraft hangar space and tie-downs for based and transient customers. Alaska Airlines provides non-stop commercial flights to Los Angeles, Portland, San Diego, and Seattle. Check the airports web site for more information. www.sonomacountyairport.org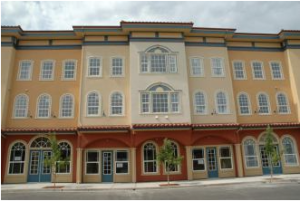 Exceptional Exteriors and Detailing of Town Green Village condominiums
Key code and voice intercom security entrance systems.
Homeowners Association maintenance of landscaping and grounds, building exterior, roof and common areas.
All underground utilities.
Reserved on-site residential parking – one or two car garages with automatic garage door openers.
Spacious Interior Features
Hand laid Porcelain, Slate or Travertine tile entry.
Designer selected light fixtures and recessed lighting throughout. Ceiling fans with lights in master bedroom and family room. Oil-Rubbed Bronze or Brushed Nickel Finish.
Raised panel doors, wide molded trim and baseboards, rounded drywall corners.
Gas fireplaces with decorative log set in most models. Granite, Slate, Porcelain or Travertine tile hearth and surround.
Laundry room with overhead storage cabinet, gas and electric dryer hook up.
Private deck.
Pre-wired phone and cable television outlets in all bedrooms and family room, home/office dedicated computer circuit, "Smart Cabling" by Leviton.
Raised panel wardrobe doors and overhead lights in secondary bedrooms.
Air-Conditioning standard.
Skylights over both stairwell and hall bath (most units).
Large storage spaces (most units).
Energy Saving Features
Hydro heat system relies on hot water produced by residential natural gas water heater to warm living space. Fully programmable night set-back thermostat.
Super water saving low-flow showerheads and water closets.
Fully insulated exterior walls, floors and ceilings.
Integral weather-stripping at all exterior doors.
High efficiency, dual-glaze windows with white vinyl frames. Lifetime manufacturers warranty on "fogging".
Insulated, double-wall construction between residential units means low sound transmission and high energy efficiency.
Gourmet Kitchen and Baths
Granite or Porcelain tile kitchen countertops and backsplash.
Built-in mirrored medicine cabinets, full vanity mirrors and vanity lighting.
Custom cabinets made of oak, maple or beech wood.
Spacious built-in pantry in most plans.
Whirlpool appliances including gas cooktop over electric oven and micro-hood combo in Stainless Steel, Black or White finishes.
Dual basin vanity in Master Bathroom complete with fully tiled countertop and backsplash (most units).
Large soaking tub/shower combo in Master Bath, complete with full tile surround.
Deep, double compartment Stainless Steel or Cast Iron kitchen sink, kitchen faucet with sprayer and garbage disposal.